IX Forum of Brewers and Restaurateurs will be held on September 9-10, in Kyiv!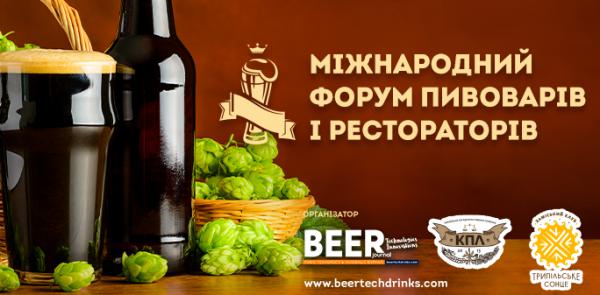 10.06.2020, 14:14
The Forum of Brewers and Restaurateurs 2020 sheduled for April, 8-9 had to be postponed due to quarantine maesures in Ukraine and the world.The hotel – restaurant complex Trypillia sun will host the 9th Forum, which is the main Organization Forum Partner. This time, the most current topics and discussions, reputable experts and new faces of the brewing industry, innovative technologies and solutions, valuable tips and successful experience of colleagues will be waiting for the forum participants. The forum audience is brewers, technologists, representatives of beer trade, restaurateurs, chefs of beer establishments from all over Ukraine and abroad, as well as manufacturers from Germany, Austria, Italy, Czech Republic, Slovakia.
As the main idea of ​​the next Forum, the organizers of the media group "Technologies and Innovations" chose the following topic "Technologies: Automation and Digitization." The main aim is to free up the brewer's time for making creativity, training, personal development, herewith it is guaranteed to receive high qualitative and demanded market products. Another important thematic block will be the movement towards the consumer, in particular, the development of the beer range, the creation of new beer styles and the improvement of traditional ones. The presentation and discussion of the unique experience of the best breweries of Ukraine and abroad are scheduled.
In focus are the beer cuisine and food pairing as the basis of the beer business as well. The section for chefs is scheduled for the second time. Stars of the restaurant business, Marco CERVETTI, Evgeniy Klopotenko were invited to participate in the meeting.
An important part of the Forum program will be the award ceremony of the winners of the tasting competition East European Beer Award 2020, which took place as an independent event, on March 11-12, Rivne.
On the second Forum day, "Beer Tour" will be held with visiting leading breweries, a beer restaurant, and pubs. We have scheduled a collaborative brewing of beer, so we invite breweries for collaboration!
Editor:
Maryna Zakharchuk, tel .: +38 (097) 17 49 269, beertechdrinks@gmail.com
For participation in the Forum, partnership and sponsorship, please contact:
Anna Pankratenkova, tel .: +38 (097) 759 25 83, reklama.nti@gmail.com
Anna Ilchuk, tel .: +38 (068) 568 66 58, nti.beer@gmail.com
Larisa Tovkach, tel.: +38 (097) 968 95 16, sad.nti@ukr.net